Sorel Fall 2019 Previews
The goal of this event was to introduce New York-based editors to Sorel's Fall 2019 Collection and their new brand platform; "Never Still". Our challenge to create a "Never Still" experience needed to include motion and other creative elements to showcase the collection.
Throughout the space was a series of styled displays that were tied together with empowering headlines, lifestyle photography, plants as well as gritty and modern pedestals. A large "Never Still" fabric banner hung in the middle of the room and was the focal point of the event. Other elements of motion include video projection, spinning shoe displays and an interactive gif photo booth.
This event was the most engaged preview to-date and half of attendees were top-tier media contacts.
Agency: R\West
Creative Director: Elizabeth Marrow-McKenzie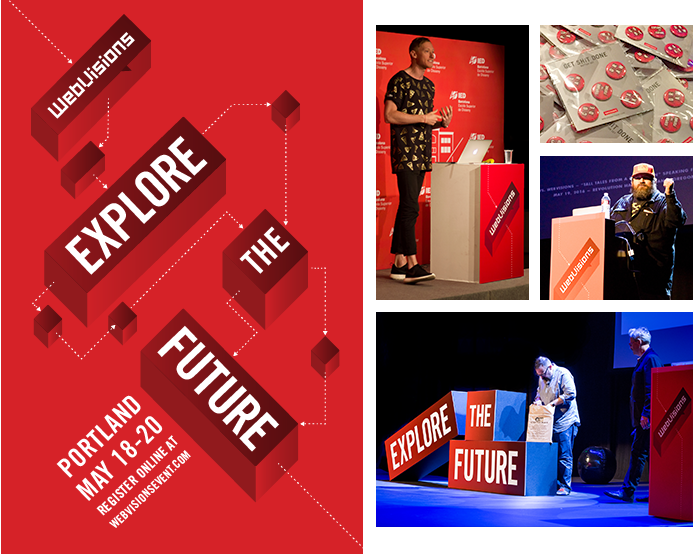 WebVisions
WebVisions has been a global platform for learning about new design, UX, technology, digital media techniques and trends that are driven by projects that do social good. I was given the opportunity to develop and produce print, swag, and experiential designs for the 2016 shows.
This visual design was inspired by flow charts and visual thought processes used by designers and developers. It is seen throughout the 2016 collateral as posters, stickers, buttons and stage elements.
Agency: Hot Pepper Studios
Creative Director: Brad Smith
Sorel Spring 2019 Influencer Event
Sorel invited editorial and celebrity stylists to Palm Springs for an opportunity to build relationships and learn about the brand's key styles. Attendees were pampered with personalized gifts and styled excursions that encouraged social sharing. Guests were excited to capture and share the experience with their own fashion network.
My responsibilities on this project was to brainstorm and prepare swag items for guests along with menu designs, shoe displaying and propping.
Agency: R\West